Improve Your Health and Happiness
Facial and Free Massage Special
Try my galvanic spa facial with free half hour massage for only $75 for first-time clients!
Gift certificates are available or book your appointment now.
To book your appointment, call Deborah at 604-754-9818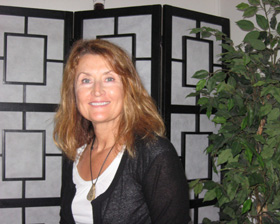 Hi, I'm Deborah Spencer. I'm a massage and bodywork professional with over 20 years of experience. I've helped hundreds of people lead healthier, more active lives and I'd love to do the same for you.
I support the optimum health of your body, mind and soul, and living life to the fullest. I am here to help you improve your wellness, fitness, health, and beauty.
I often have great specials for very affordable massages. Call me at (604) 754-9818 for more information or to schedule an appointment.
A relaxing and rejuvenating environment
My goal is to get to the origin of your pain and discomfort and then end the treatment leaving you in a blissful state of relaxation. You will come into an environment where you can relax and be rejuvenated. Guaranteed to give you a wonderful night's sleep!
It is scientifically demonstrated that your state of mind and stress affect your physical health. I can help reduce your stress and relieve your physical aches and pains. After the massage of your choice you can drift away in our Infrared Sauna and come out glowing from head to toe.
Balance your body
I balance your body using therapeutic techniques such as swedish massage, sports massage, tui nah massage, and acupressure to help you feel better instantly. You can also experience aromatherapy facials including acupressure of the face.
Rejuvenate and energize yourself
I am expanding my schedule to allow a limited number of people an opportunity to become new clients. You can enjoy the health benefits of therapeutic massage to relieve tension, release toxins, and rejuvenate and energize your body.
Treat yourself
Whatever your reasons, the proven health benefits of regular massage are one of the best steps you can take to support a more healthy and active lifestyle. Massage therapy is an important part of preventive health care for your mind and body. Treat yourself to a professional massage and you will immediately feel the benefits.
A great gift for your loved ones
Gift certificates are always available. I also offer special rates for clients wanting a massage on a regular basis. You can always count on a quiet, comfortable, professional environment.
Call to learn more
If you're interested in learning more about the many health benefits of therapeutic massage or would like to set an appointment with me, call soon to check availability.